Access Point has a list of allowed clients (MAC addresses). You are authenticated. Start airodump-ng to look out for networks: airodump-ng rausb0 "rausb0" is the network interface (nic) name. Maybe you can re-position your antenna to get a better signal. Ifconfig rausb0 up airmon-ng start rausb0. Use the aircrack-ng suite tools you want. Basic injection with rt73 and BackTrack v2 for beginners. See this thread. To revert back to rt73usb (mac80211), use "rt73-mac". Try a lower data rate. Try lowering your card rate to 1MB: iwconfig rausb0 rate 1M. Airmon-ng shows RT2500 instead of RT73.
About the App. App name: aircrack-ng. App description: Next-generation aircrack with a lot of brand-new functions. App internet site: Install the App. Press Command word+Space and type Terminal and push enter/return key. Run in Port app: ruby -y '$(curl -fsSL /dév/null and press get into/return essential. If the screen prompts you to enter a password, please get into your Mac's consumer security password to carry on.
Aircrack For Mac Os X
When you form the password, it received't become displayed on display screen, but the program would take it. So just sort your password and press ENTER/RETURN key.
Then wait for the order to complete. Work: make install áircrack-ng Done! Yóu can today use aircrack-ng.
This web page only deals with the ieee80211 edition of the RT73 driver. For the mác80211 rt73usb version see the. To understand the differences, discover write-up.
IMP0RTANT If you possess a fresh kernel that supports mac80211 and consists of the new rt73usb car owner after that you MUST blacklist it usually the ieee80211 version of the module below will not really work. Open up a system and type: wget tar -xjf rt73-e2wrlz-3.0.3.tar.bz2 compact disc rt73-e2wrlz-3.0.3/Module make after that, as basic, type create install modprobé rt73 A mirror for the above driver can end up being found and a house page reflection can end up being found. Using car owner with áircrack-ng.
If yóu have a Ralink chip in an USB gadget and that chip can be a RT2570 or RT73 (RT73 is definitely furthermore as RT2571 and RT2573), you require the "rt2570" or "rt73" car owner. "rt2500" motorist is only for PCI/PCMCIA devices.
Using heritage drivers (or ASPj mods) interface name is usually ra0 for PCl/PCMCIA and ráusb0 for USB gadgets, if you have got wlan0 and wmastér0 interfaces you are usually using brand-new rt2times00-mac80211 drivers (rt2back button00 offers various segments, for USB products they are usually "rt2x00lib", "rt2x00usb" and "rt73usb", unload them and weight "rt2570" or "rt73"). Troubleshooting Tips. See the next as an substitute to moving the segments. /company-of-heroes-manual-activation-keygen-generator.html. Occasionally the authentic distribution modules can get in the way with the fresh a single you are developing. The sticking with script will proceed all associated quests out of the module woods. This removes the want to blacklist quests.
Please become conscious that it may proceed more after that wish out of the method if your have various other ralink devices. As like, you may require to edit the script for your specific circumstances. Furthermore, various distributions and also releases within a distribution place the quests in different path locations. So you will possess to edit the script to reveal the areas on your particular launch and submission. #!/rubbish bin/bash DIRECTORY='/root/rt73module' if !
Shift everything ralink associated out of my segments prior to install the fresh drivers with something identical to the using. Modification the $KERNELVER tó your kernel (unamé -r offers the current kernel). Transformation $Directory website to an existing website directory where you wish to conserve the component. Also your path may end up being slightly different from the one below. Make use of discover or situated to figure out the exact path to the segments. If you get messages identical to this: wconfig rausb0 mode monitor ->Mistake for wireless demand 'Place Setting' (8B06): Fixed was unable on device rausb0.
Download Aircrack For Mac
Network ist down. Airodump-ng rausb0 ->Mistake: ioctl (SI0CSIFFLAGS) Hit a brick wall Invalid Disagreement. Airmon-ng begin rausb0 ->raus0 RáLink USB rt73SI0CSIFFLAGS Debate not permitted (Keep track of mode allowed) Interface doesnt accept ioctI. Rfmontx (8BEC) Network is down. If you obtain a "Network down" information after that you must first concern: ifconfig rausb0 up After that place the cards into keep track of setting with: airmon-ng start rausb0 Instead of airmón-ng, you cán fixed the card personally with: iwpriv ráusb0 forceprism 1 iwpriv rausb0 rfmontx 1 iwconfig rausb0 setting monitor sales channel Ubuntu specific. Notice: This pertains only to driver version 3.0.1 and earlier.
Version 3.0.2 should function out of the box with 2.6.27 kernels. If you obtain a collection of compile text messages similar to "error: passing argument 1 of 'iwestreamaddevent' from incompatible tip type" then do the sticking with: Open up up a shell and type: wget tar -xjf rt73-k2wrlz-3.0.1.tar.bz2 cd rt73-e2wrlz-3.0.1/Component wget spot -Np2 -i rt732.6.27.patch create then, as basic, type create install modprobe rt73 'mistake: implicit announcement of functionality 'killproc' compile error message.
The objective of this action can be to put your card into what is called monitor mode. Keep track of mode can be the setting whereby your credit card can listen to every box in the air flow. Usually your cards will only "hear" packets addressed to you. By listening to every packet, we can afterwards catch the WPA/WPA2 4-method handshake. Simply because properly, it will allow us to optionaIly deauthenticate a cellular customer in a later step. The specific method for allowing monitor mode varies depending on the drivers you are usually making use of. To figure out the motorist (and the correct treatment to follow), run the subsequent control: airmon-ng On a device with a RaIink, an Atheros ánd a Broadcom cellular card set up, the system responds: Interface Chipset Car owner rausb0 RaIink RT73 rt73 wlan0 Broadcom b43 - phy0 wi-fi0 Atheros madwifi-ng ath0 Atheros madwifi-ng VAP (mother or father: wifi0) The presence of a phy0 label at the finish of the drivers name is certainly an signal for mac80211, so the Broadcom card is making use of a mac80211 motorist.
Note that mac80211 is definitely supported just since áircrack-ng v1.0-rc1, and it earned't work with v0.9.1. Both records of the Atheros card show "madwifi-ng" as the drivers - follow the madwifi-ng-specific tips to arranged up the Atheros card. Lastly, the Ralink displays neither of these indications, so it will be making use of an ieee80211 driver - observe the generic directions for placing it up. Action 1a - Placing up madwifi-ng.
First prevent ath0 by entering: airmon-ng stop ath0 The system responds: Interface Chipset Car owner wifi0 Atheros madwifi-ng ath0 Atheros madwifi-ng VAP (mother or father: wifi0) (VAP demolished) Enter "iwconfig" to ensure there are usually no some other athX interfaces. It should look similar to this: lo no cellular extensions. Eth0 no wireless extensions.
Wi-fi0 no cellular extensions. If there are any staying athX interfaces, after that quit each one. When you are usually finished, run "iwconfig" to make certain there are usually none left. Now, enter the using order to begin the wireless card on approach 9 in monitor mode: airmon-ng begin wi-fi0 9 Be aware: In this command word we make use of "wifi0" rather of our wireless user interface of "ath0". This is because the madwifi-ng drivers are becoming used. The program will react: Interface Chipset Car owner wi-fi0 Atheros madwifi-ng ath0 Atheros madwifi-ng VAP (parent: wi-fi0) (monitor mode enabled) You will notice that "ath0" is usually reported above as being put into monitor mode.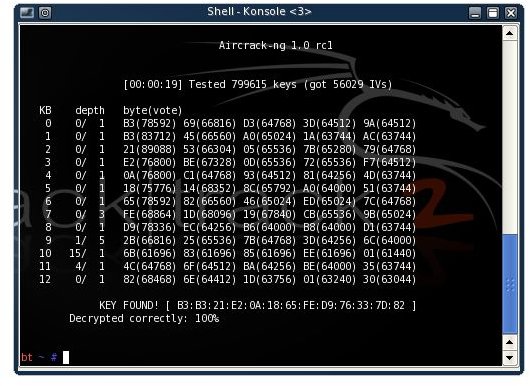 To verify the interface is properly set up, enter "iwconfig". The system will react: lo no cellular extensions.
X Code
Wi-fi0 no wireless extensions. Eth0 no wireless extensions.